The Association of Artists-Educators of Moscow and Moscow Region presents: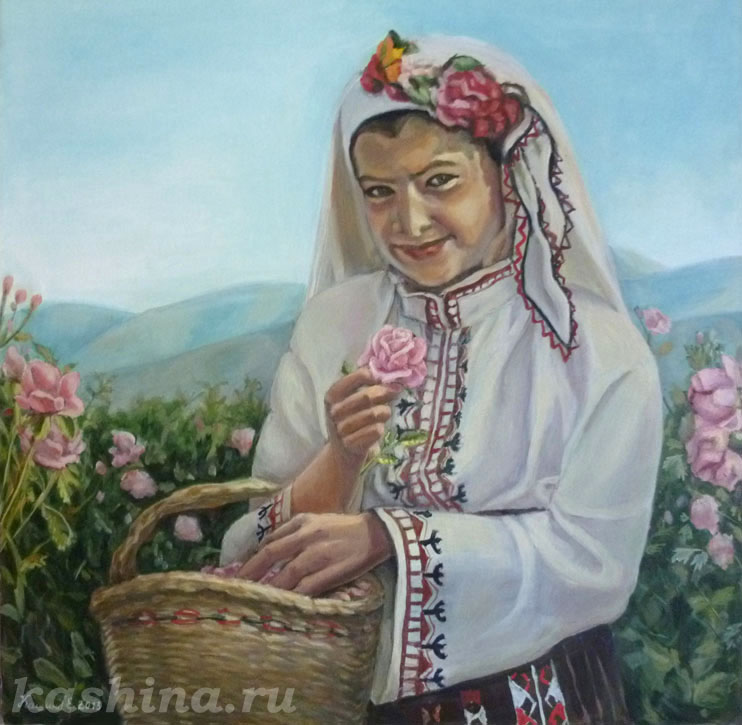 EXHIBITION "FADLESS BOUQUET"
February 3 - March 10, 2016


The exhibition features 2 paintings by Evgeniya Kashina dedicated to Bulgaria. The paintings were painted for the joint exhibition of Bulgarian, Russian and Serbian artists "Slavic Bridge". The exhibition was held in Bulgaria, in the cities of Varna and Dobrich, in the summer of 2013, and was dedicated to the liberation of Bulgaria from the Ottoman yoke.

More information about the Slavic Bridge exhibition in Bulgaria can be found here: kashina.ru/publik/Bolgaria_2013.html

The exhibition and sale of paintings takes place in the hall №22 of the art gallery of the VDNH shopping center at:
Moscow, 1st Ostankinskaya St., building 55, second floor. (650 meters from VDNH metro station, 7-10 minutes walk).
In the illustration above:
"Bulgarian rose", painting by Evgeniya Kashina,
50x50cm, oil on canvas, 2013
Portrait of a girl in a Bulgarian national costume. In Bulgaria, a rose is held in high esteem. Every year, from 1903, the Rose Festival is held in Bulgaria, which reflects the national flavor, traditions and culture of the Bulgarians.

In the illustration below:
Poppies of Kaliakra painting by Evgeniya Kashina,
50x90cm, oil on canvas, 2013
Landscape with a view of the Kaliakra fortress. They say poppies bloom where the blood shed.
In 1791, Admiral Ushakov completely defeated the Turkish fleet at Cape Kaliakra.
There is a legend about 40 Bulgarian girls who chose to tie their braids and throw themselves into the Black Sea from Cape Kaliakra, instead of being captured by the Ottomans.